HOUSTON SANDBLASTING SERVICES
Berkeley Services specializes in our portable Houston Sandblasting and Dustless Blasting Solution. Our team is fully equipped and ready to handle any sandblasting job. Serving Houston and surrounding cities, we offer dustless blasting services for the automotive, industrial, and commercial sectors. If you have something that needs blasting, we can handle it. Providing the highest quality work the first time, we aim to to be the top local sandblasting company.
We Currently Do Not Provide Automotive Sandblasting.
Dustless Blasting in Houston
We use our dustless sandblaster to remove all types of textures including rust, grime, plaster, and paint. No matter what material you need removed, we can blast it away. Our blasting services are ideal for industrial sandblasting. We are able to safely and effectively strip objects while abiding by OSHA guidelines. Whether you need media blasting soda blasting, shot blasting, or any other type of dustless sandblasting, our team is here to provide local blasting services. Common items we sandblast include:
Oil & Gas Equipment
Refiners
Public Utilities
Ship Channel
Machine Shops
Bridges
Airports
Parking lot striping
Parking Garages
Overhead Cranes
Metal and Wood Siding
Trailers
Structural Steel Equipment
Industrial Equipment
Pipe lines
Steel Beams
Concrete
Automotive
Ethanol Plants
Rental Equipment
Drums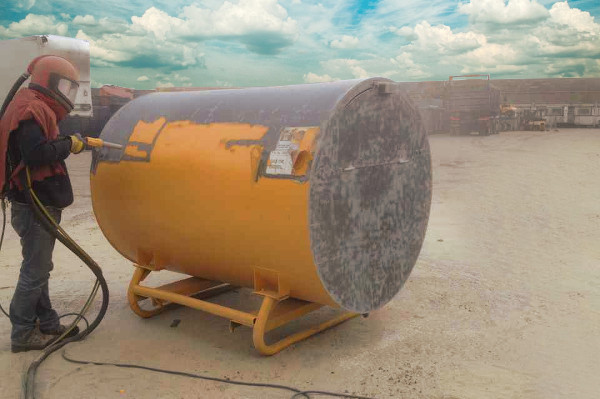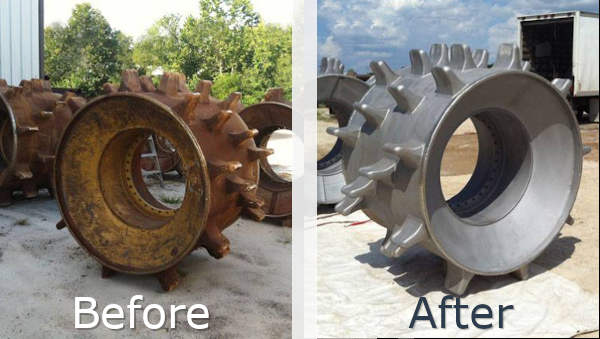 Houston Industrial Sandblasting
The most important aspect of industrial sandblasting is safety. Our team is highly trained and strive to follow all industry safety standards. Our mobile sandblasting services are ideal because we can bring our equipment to you and sandblast everything from small objects to huge unmovable objects. When it comes to industrial sandblasting, our crews are able to work around the clock to make sure we do not interrupt day to day operations for our clients. Our sandblasting is only as good as our name, for this reason we strive to delivery professional dustless blasting to our clients and complete the job the right way the first time.
Local Dustless Blasting At Work
If you are looking for a sandblasting company serving Baytown, Pasadena, or anywhere around Houston, we are the company for you. We have packaged up our sandblasting equipment and made it mobile. Our team is highly skilled are surface blasting and removing all unwanted materials. Our blasting work exceptionally well on painted surfaces. We can easily remove paint without damage the object.
Our mission is to provide our residential, commercial, and industrial clients, the best sandblasting service in the industry through quality performance and superior service. We understand what is expected of a quality sandblasting company– good workmanship and honesty so we hold ourselves to a higher than norm standard, and that is what our clients receive.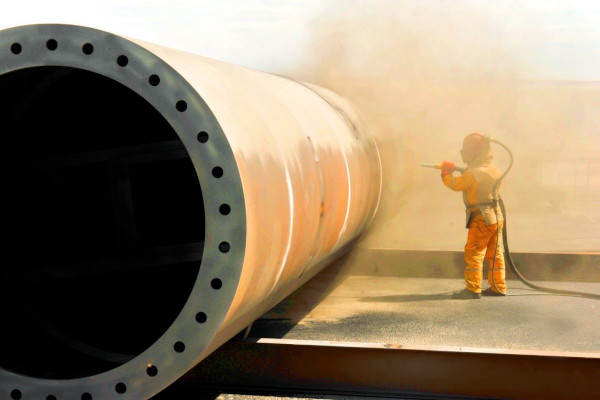 About Our Dustless Blasting
Sand blasting is a common term for using abrasive impact as a method of bringing smoothness or polish to a previously rough or course surface. Corrosion, on metal surfaces in particular, is a natural occurrence on machinery or metallic structures. Rust is a nuisance; but it can be remedied with the right blasting approach. Some targeted abrasive blasting can speedily and nicely restore those pieces to former function and appearance. This approach can also clear old paint off surfaces to perfectly prepare them for fresh paint.
The process requires precision to bring about the best results. While the method of blasting is abrasive and powerful, the objective is to remove the roughness and restore a balanced and consistently smooth finish. This includes a large amount of pressure to fully remove the impurities. There are many options for Houston Sandblasting Companies. But the experience and efficiency of Berkeley's Dustless Blasting Services guarantees well executed work, leaving a finished and clean result.
The term "sandblasting" is known by many and sounds simple. However, as needs have become more specific in the industrial world, improvements have occurred with the product used and the ways in which it is brought in contact with the surfaces. There are differing grit options depending on the job.
Here is a list of the various sandblasting approaches available:
Silica
Sand derived from silica, or a dioxide silicon source is most common. This is sometimes called quartz or even the more generic word: sand. Sand is popular because of the mostly uniform size of the particles. This lends to a consistent and predictable blast and result. The issue, however, is that more modern approaches render better results. These may be more cost effective, quicker, or bring about better results.  Also, silica has some medical connection to respiratory problems.
Soda
This form of sandblasting features the usage of baking soda. This common household item has great consistently for high intensity blasting. This bicarbonate has shown to remove corrosion without causing any indentation or damage to the metallic surfaces underneath. Because it is less abrasive on metals, soda is often used when the materials are thinner and could be damaged by something like silica.
Steel
Grit from standard steel is sometimes used to remove paint and heavy rust from steel. This steel-on-steel approach works better than silica and leaves an incredibly smooth result. Due to the compound involved, the cutting is very quick using this approach.
Glass
There is a fineness to this beaded method. This smaller material lends to a polish unlike any other. While this may not be useful for heavy, metallic surfaces. It can bring about aesthetically pleasing results on things like cabinets, tables, or chairs.
Bristle
Sometimes the blasting method isn't the right tool for the job. In this case, wire bristles, commonly from steel are needed. These are used rotationally on the rough surface. If a metal surface has some form of corrosion, but doesn't need heavy rust removed, the bristle tool cleans it more efficiently.
As you can see, there are several approaches to smoothing damaged surfaces, either to restore them, or prepare them for repainting. Whether it be silica, steel, glass, or bristle, there is always a perfect fit for the job at hand. Examples would include removing old paint from a vehicle. The metal underneath needs to be undamaged, and it is susceptible to indention. In this case, the glass product would lend to the best results. If a heavier or more impactful blasting agent was used, the metal may be damaged and need to be replaced.
Making the right decision saves time and money. We would love an opportunity to help you assess the needs for your next project. We can explain the multiple sandblasting options and help you make a confident choice that will bring the best, most cost effective, and swift results.
For Houston Dustless Blasting services, contact our professional team today!