HOUSTON SANDBLASTING SERVICES
Berkeley Services specializes in our portable Houston Sandblasting and Dustless Blasting Solution. Our team is fully equipped and ready to handle any sandblasting job. Serving Houston and surrounding cities, we offer dustless blasting services for the automotive, industrial, and commercial sectors. If you have something that needs blasting, we can handle it. Providing the highest quality work the first time, we aim to to be the top local sandblasting company.
Dustless Blasting in Houston
We use our dustless sandblaster to remove all types of textures including rust, grime, plaster, and paint. No matter what material you need removed, we can blast it away. Our blasting services are ideal for industrial sandblasting. We are able to safely and effectively strip objects while abiding by OSHA guidelines. Whether you need media blasting soda blasting, shot blasting, or any other type of dustless sandblasting, our team is here to provide local blasting services. Common items we sandblast include:
Oil & Gas Equipment
Refiners
Public Utilities
Ship Channel
Machine Shops
Bridges
Airports
Parking lot striping
Parking Garages
Overhead Cranes
Metal and Wood Siding
Trailers
Structural Steel Equipment
Industrial Equipment
Pipe lines
Steel Beams
Concrete
Automotive
Ethanol Plants
Rental Equipment
Drums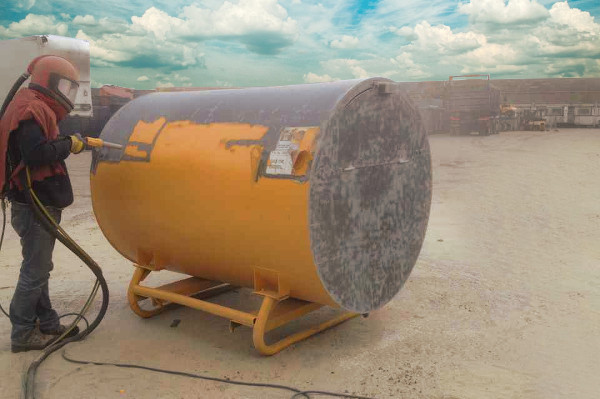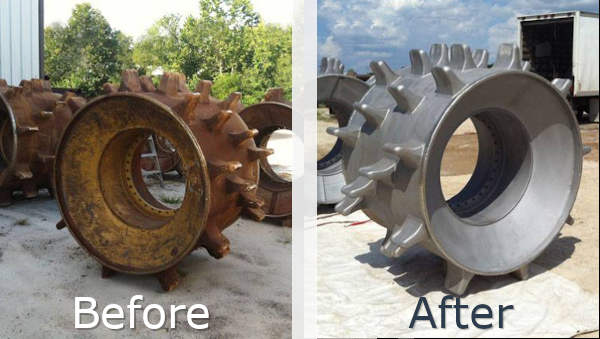 Houston Industrial Sandblasting
The most important aspect of industrial sandblasting is safety. Our team is highly trained and strive to follow all industry safety standards. Our mobile sandblasting services are ideal because we can bring our equipment to you and sandblast everything from small objects to huge unmovable objects. When it comes to industrial sandblasting, our crews are able to work around the clock to make sure we do not interrupt day to day operations for our clients. Our sandblasting is only as good as our name, for this reason we strive to delivery professional dustless blasting to our clients and complete the job the right way the first time.
Local Dustless Blasting At Work
If you are looking for a sandblasting company serving Baytown, Pasadena, or anywhere around Houston, we are the company for you. We have packaged up our sandblasting equipment and made it mobile. Our team is highly skilled are surface blasting and removing all unwanted materials. Our blasting work exceptionally well on painted surfaces. We can easily remove paint without damage the object.
Our mission is to provide our residential, commercial, and industrial clients, the best sandblasting service in the industry through quality performance and superior service. We understand what is expected of a quality sandblasting company– good workmanship and honesty so we hold ourselves to a higher than norm standard, and that is what our clients receive.